Loeb Music Library Information
Loeb Music Library Website (Location, Hours, etc.)
Loeb Music Library Facebook Page
World Music Collections at Harvard
This guide is intended as a selective starter guide to music research in the Harvard Libraries. It was created for Culture and Belief 46: Music, Debate, and Islam, and may be augmented throughout the semester as various topics in the syllabus are covered. Many resources listed are accessible to Harvard users only but may be accessed from home or campus. As with any type of research, a wide variety of print and electronic sources should be consulted.
If you have questions or comments, or for research assistance, please feel free to contact Liza Vick or Kerry Masteller, Research Services, Loeb Music Library, 5-2794. Chat reference is available weekdays 9:30-5:30. When unavailable, you may leave a message or visit the Circulation Desk at the Music Library for assistance.
Featured Books from the Catalog
Garland Encyclopedia of World Music
Call Number: Seeger Room ML100 .G16 1990
ISBN: 0815310846
The Garland encyclopedia of world music. Volume 6, The Middle East
Call Number: Seeger Room ML100 .G16 1998 v. 6
ISBN: 0824060423
Accompanying CD in recordings collection - ask for AWM CD 11524 at circulation desk.
Wesleyan Virtual Instrument Museum - Tabla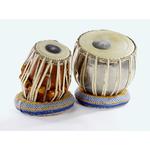 Liza Vick
Contact Info
Loeb Music Library, Music Building
Harvard University
617.495.2794
IM reference is available M-F, 9:30-5:30.
Send Email