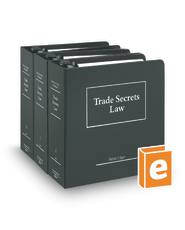 Trade Secrets Law
by
Melvin F. Jager.
Call Number: Available on Westlaw
Publication Date: 2002- (loose-leaf)
This comprehensive, up-to-date treatise includes a full analysis of all the pertinent laws, as well as a thorough review of the many divergent legal theories accepted by the courts. It explains how to form an agreement to protect trade secrets that will be enforceable in courts. In addition, it covers the pure trade secret license, the pure patent license, hybrid patents, and trade secret licenses.