Russian parliamentary election ephemera; Moscow mayoral election ephemera, 1999.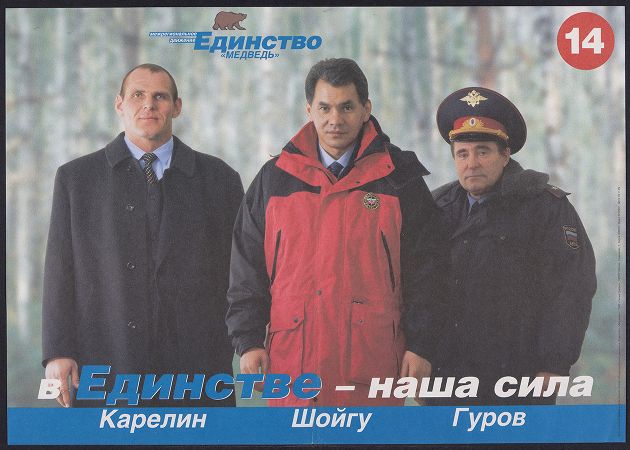 Seq. 267 from folder Edinstvo (Medvedʹ) (Box 452)
http://nrs.harvard.edu/urn-3:FHCL:13360118?n=267
HOLLIS # 008946784
This collection contains leaflets, posters, newspapers, campaign literature and party platforms produced in connection with the Russian Parliamentary and Moscow Mayoral election that took place on same day of December 19, 1999. The online collection includes 1270 images
Boxes (contents)
Kommunisticheskai͡a partii͡a Rossisĭkoĭ Federat͡sii
Edinstvo (Medvedʹ)
Otechestvo--Vsi͡a Rossii͡a
Soi͡uz pravykh sil
Blok Zhirinovskogo (Liberalʹno-demokraticheskai︠a︡ partii︠a︡ Rossii)
I͡Abloko
Zhenshchiny Rossii
Partii͡a pensionerov
Nash dom - Rossii͡a
Dvizhenie v podderzhku armii
Blok generala A. Nikolaeva--akademika S. Fedorova
Dvizhenie patrioticheskikh sil "Russkoe delo"
Dukhovnoe nasledie
Martin Shakkum
Irina Volkova
Other parties and candidates
Moscow mayoral elections: I͡Uriĭ Luzhkov
Moscow mayoral elections: Pavel Borodin
Moscow mayoral elections: Dmitriĭ Vasilʹev
General elections materials.